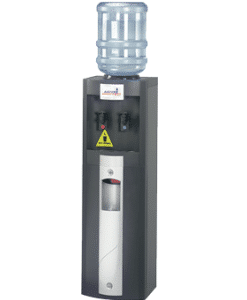 All our dispensers are equivalent to upgrading from a small hatchback to a Rolls  Royce without the additional cost.
| | |
| --- | --- |
| Living – Water | Competition |
| Design attractive and eye catching | Ugly white looking dispenser |
| Our coolers either have stainless steel inside tanks or the patented auto-sanitization system allowing a six minute steam clean the customers convenience | Plastic inner reservoir attracting bacteria & receiving harsh chemical cleaning. |
| Inbuilt computer- electronic  ID and cooler information can be downloaded allowing us to monitor bottles consumed, sanitization and fault diagnoses allows us to pre-plan delivery patterns | Ad hoc suck and see approach |
| We match the coolers cooling to the customers requirement providing either direct chill, ice bank or reservoir cooling. | Wait of 1-2 hours for cooled water after every bottle change or cleaning |
| Spike, which prevents any bottle spill | Unhygienic water spillage each time a bottle is changed |
| Constant hot and cold temperature… Our Living-Water stainless steel cooler also allows the user to boost the hot to ensure a super hot cupper | Varying cold and hot water temperature , either heats or cools but not both at same time |
| Electronic taps = No direct contact between hands and water | Direct contact hands and water with the push type tap |
| Possibility of ambient, hot and cold with friendly compressor gas or electronic cooling | Only choice of two materials |
| Modern, super strong, shock proof material | Old ugly, poor quality materials |
| Wheels for easy movement | Fixed and immovable |
| Integrated drip tray with automatic evaporation – no need to empty drip tray or stagnant water | Regular removable and cleaning of drip trays |
| Personalized colours available according to company logo, ect – Hand painted | Standard white or black plastic |
| Reasonable weight at base and solid | Easily knocked over and insecure |
| High easy to reach buttons. | Low and unwieldy buttons and faucets |
Living-Water sells water coolers and office water dispensers in London. Buy water coolers online or rent water coolers from Living-Water for your home or office.