Bottled Water Coolers London
Bottled Water Coolers for Office and Home
Living-Water Ltd. offers a wide variety of affordable bottled water coolers for home and business. Our bottled water dispensers are ideal for homes and offices, available for buy or rent. We aim to tailor solutions to your company's size, space and required service schedule. The bottled watercooler models available include; floor standing, countertop, under counter and watercoolers machine systems with an additional hot water function. These units are available for purchase on our online store. Our bottled water systems can fit 18.9l water bottles. Some of our clients includes schools, gyms, universities and more industries.
Benefits of Bottled Water Coolers
More convenient – no small bottles
Temperature – water can be hot or cold immediately
Water quality – no tap water, but soft natural spring water
Portability – Easy to move location at home or office
Environmental friendly – one big water bottle vs lots of small bottles
Frequently Asked Questions
Get your questions answered with some of Living-Water Ltd. frequently asked questions.
Living-Water Ltd delivers water coolers and water to the following areas:
Living-Water Ltd. rental prices start from £1/week. 
Have a look at our water cooler rental page.
Yes, Living-Water Ltd. can provide you with a 7 day free water cooler trial and 1 bottle of our natural spring water.
Our free trial is 100% cost and obligation free.
By taking one of our water coolers on a trial, you have the opportunity to witness first hand how much a sleek, slimline cooler can add to your office.
In addition you have the opportunity to try our spring water and experience our tailored customer service.
Bottled Water Dispenser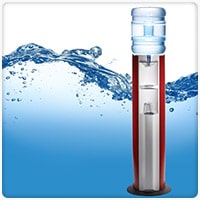 Each of our water dispensers has been designed to dispense our own Living-Water spring water from the Wenlock range. Purchase other bottled water dispensers from our online store here.
Bottled water dispensers are perfect for our more discerning customers who want to offer staff access to pure spring water.
Rent water dispensers from Living-Water in London today!