Living-Water Hot Water Boilers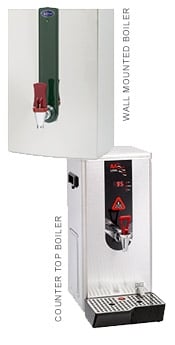 The Living-Water hot water boiler range offers outstanding quality and reliability. The range is available in counter top and wall mounted models, both of which are easy to clean and service.
The Hot Water Boiler
Hot water boiler features include:
Brushed stainless steel exterior
Non-drip Tomlinson-type tap
Durable stainless steel boiling chamber
User-friendly display
Self-priming pump
Safety cut-outs
Electric elements
Draining facility availability through drip tray
Both counter top and wall mounted hot water boilers are available.
16l Countertop Water Boiler
Description
Economy Boiler.
16 litres per hour and 8 litres Instant Draw Off capacity.
Brushed stainless steel body.
Dimensions/Weight:
Height: 560mm
Width: 260mm
Depth: 260mm
Weight: 12kg
I would like to purchase this boiler.
Hot Water Boilers London
The perfect hot water boilers that are a safe, efficient and quick, providing the right heating sources that produce high pressure steam and hot water for commercial processes.
Our hot water boilers can be used anywhere heated water is required and electric power is available.
Count on ease-of-us and outstanding quality, traits of all Living Water products. Learn more about hot water boilers with us.
---