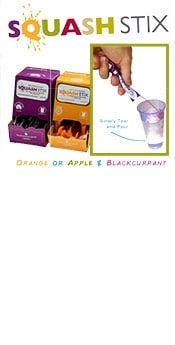 Now Introducing Squash Stix!
Squash Stix is an easy to use cordial with each stick being the perfect serving size to add to a glass of water!
200 Sticks/box
No Artificial Colours
No Articial Flavours
No Added Sugar
Two Refreshing Flavours – Orange or Apple & Blackcurrant
Easy to Store
Encourages Rehydration
Simply Tear and Pour
Give us a call today to receive squash stix with your next water delivery.
Squash Stix Cordial