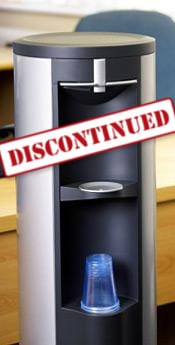 The Executive POU (point of use) water cooler offers customers an office water solution that reduces the chance of microbiological contamination by 98% with our ground-breaking Direct Dispense system, as well as offering them all the benefits of our most complete cooler ever made.
The Executive POU (Point of Use) Water Cooler
Sanitisation also takes a matter of seconds without the need for chemicals, complex training or equipment.
The Executive POU also features a choice of 8 changeable side panels, meaning you can win more customers by offering a customised cooler to suit their own office, and you will also save money on replacements as damaged panels can be easily interchanged without having to replace the entire cooler.
Executive mains water cooler features
Threesolid metal dispense levers offering a choice of Cold, Ambient or Hot water.
A high dispense point means no stooping or bending is required to dispense water.
Duplex dispense nozzle prevents contamination as customers fingers and hands can never come into direct contact with the point of water dispensed.
Drips from the dispense nozzle are taken to a reservoir located on the compressor at the base of the cooler – and harmlessly evaporates due to the natural heat generated by the compressor.
Heat resistant plastic around areas of electrical circuitry reduce the risk of fire and ensures stringent European safety standards are met.
Built in wheels allow the Executive POU to be easily transported from one location to another.
Dimensions:
Height: 1100mm
Width: 390mm
Depth: 380mm
CLICK HERE to read our blog on how to maintain your Executive water cooler.
Read our blog on how you can have water on demand
Read more of the advantages of offices water coolers here
Click here for more benefits.
I would like to purchase this cooler.
Executive Mains Water Coolers London
It's the perfect solution—an easy-to-use water dispenser product that is connected straight to the water mains.
It uses your existing supply of water, filtering and cleaning it in real time to provide you with healthy, readily accessible water. With our POU filter in place, you will not need to spend time or money on plastic water bottles again.
---