Living-Water Pure Water Cooler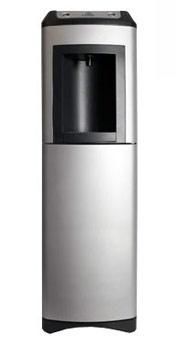 The Pure mains water cooler offers the highest quality filtered water, hot or cold, 24 hours a day. All fitted with the environmentally friendly Living-Water Activated Carbon Triple Action Filter System with added lime scale control. This will ensure you always enjoy pure, clean, and great tasting refreshment.
The Plumbed In Pure Water Cooler
Pure water cooler features include:
Stylish sleek design.
Soft touch electronic dispensing.
Internal cup dispenser.
Large port hole ideal for filling Coffee Carafes & Sports Bottles.
Efficient cooling – can provide eight consecutive cups of water at below 10°C and up to 40 cups an hour.
Push Button Taps with indicator lights.
Pressure Vessel technology.
Amongst the largest Direct Chill Capacity in the marketplace.
Drainage facility available through Drip Tray.
Dimensions:
Height: 1.1m
Width: 32.5cm
Depth: 34.5cm
Find out how direct chill water coolers work
Read our blog how you can have water on demand
Read more of the advantages of office water coolers here.
I would like to purchase this cooler.