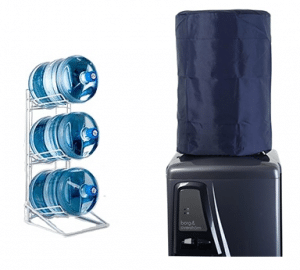 If you are looking for water cooler accessories, look no further than Living-Water UK, the top water cooler company in London. Living-Water sells and a rent bottled water coolers and mains water coolers, and delivers the bottles of water for the bottled water coolers from its distribution centre in Wimbledon, London.
Living-Water is an accredited member of the British Water Cooler Association (BWA) and provides only products that are of the highest possible standard.
Living-Water also supplies accessories for water coolers, including the following:
POU Filters: Living-Water has a range of HYDRO+ In-Line filters featuring carbon block, silverised GAC, sediment and media filter options. Scale inhibitor options are available in most versions, and the filters can be used on cold and ambient water supplies.
The injection moulded polypropylene filters are manufactured in the UK using a state-of-the-art spin welding process and they improve water odour, taste, and clarity.
Bottle Covers: Living-Water's bottle covers will prevent the formation of algae in the water in a water cooler that is exposed to direct sunlight for at least part of the day. Covers will also keep your water cool, fresh and crisp even if it is not in the sun at all.
Cooler Cups: Living-Water sells high-quality 9Oz transparent blue cups that can be used for hot or cold drinks and are endorsed by the Save-A-Cup scheme, the UK's leading authority on cup recycling.
Ultra-Absorbent Cooler Mats: Living-Water's ultra-absorbent cooler mats are used to keep the floor below your water cooler clean, neat and dry from unavoidable splashes and spills. The ultra-absorbent cooler mats are 60 x 90 cm, absorb up to 5 litres of water and are available in red and grey.
Living-Water can be contacted directly for any of the above water cooler accessories.