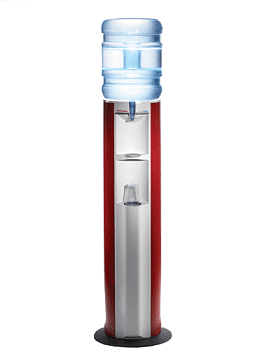 How to sanitise and clean a Living-Water executive water cooler every three months (recommended)
First of all how do you take the bottle off the executive office water cooler?  The bottle will typically have a self sealing cap and when lifted up vertically off the cooler (try not to tilt until fully off the spike) will not leak.
Once removed the top of the cooler can be unscrewed anti clockwise and the colour side panels removed from the cooler (be careful as they will become loose as the top is being unscrewed and should be prevented from falling and scratching) and the top removed from the cooler.
Looking down into the office water cooler you can see a clear plastic reservoir and pipes leading to the taps, Unclip these out and lift the entire reservoir and pipes out of the cooler – These are the only parts in contact with the water and should then be sent for recycling. Insert a new reservoir and pipe system as supplied by Living-Water making sure the pipes connect up to the taps properly.
Take the opportunity to spray clean the spike area of the cooler before and after screwing on the top lid (hold the panels on the cooler as the lid is screwed back on.
Having replaced the lid remove the drip tray – this typically can be slid/clicked out of the front of the cooler and then left to soak in a descaler – Typically a cooler company will swap this out if necessary with a pre-cleaned drip tray as otherwise it can take time to dissolve. Again the drip tray should be emptied and sprayed with cleaning agent before being put back.
The front and side panels of the cooler can now be addressed and cleaned using a sterilizing agent
Lastly before putting the bottle back on, you might want to give it a wipe down so the cooler is left fully spick and span.
If you look at our water cooler blog which addresses how to sanitise a cheap reservoir type water cooler, you will see that the process of cleaning our Executive cooler is relatively simple, does not require draining and flushing the water cooler into a bucket/etc and can be done by the customer far easier.
The Executive office water cooler is the easiest to clean water dispenser in the world – If considering buying, hand on heart this is by far the best solution and will ensure you have a 100% clean drinking water machine.